GAS Jun switches to four-day mode of operation for six months
© RIA Novosti / Oleg Zoloto / Assembly of Skoda Yeti at GAZ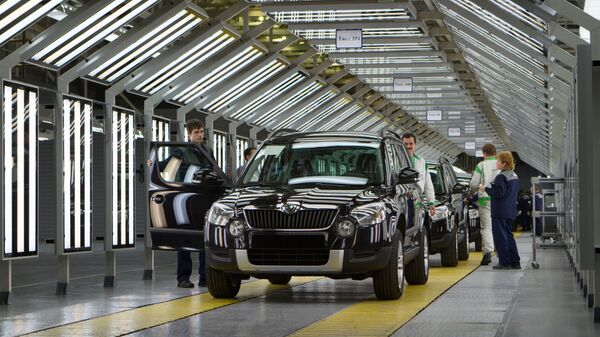 © RIA Novosti / Oleg Zoloto
The Gorky automobile plant since June, moves to four-day mode of operation for six months due to the fall in the volume of the order, from 22 June to 5 July, the plant will suspend production, reported RIA Novosti in the press service of «GAZ Group».
«In June, the GAS goes to 4-day operation. The reduced graph is introduced for a six months — from 19 June to 18 December. Also as a forced measure due to the fall in order volume from 22 June to 5 July GAS will suspend production during this period employees will leave in corporate holiday, which is traditionally held in late July – early August», — the press service of the company.
According to the press service, the GAS also does not exclude a further reduction of the work of the conveyors depending on the size of the order and the situation with sanctions, the deadline for which expires on July 22. «sanctions GAS for more than two years carries the critical load and has no reserves in order to neutralize the negative effects of the crisis caused by the epidemic», — said the press service of the «GAZ Group».
According to the Chairman of the working tips «GAZ Group» Evgeny Morozov, the GAS is in a double crisis due to sanctions and falling market. «Now, when we have no order — in our chain of subcontractors under attack half a million people. Therefore, we anticipate with great hope the start of the anti-crisis program to support the automobile industry, adopted at the meeting with the President of the Russian Federation, and hope that Gas will be this support», — was quoted by the press service of the words Morozova.
Production at the Gorky automobile plant was suspended from 30 March to 3 April in accordance with the presidential decree on declaring days. From 6 April beginning of the work blank production of Gas. The main production of the enterprise resumed operation on April 13. However, since April 20, the Gorky automobile plant switched to a four-day operation from-for falling of demand for commercial vehicles. Gorky automobile plant was also suspended production from 1 to 11 may.